Plan Your Own Funeral with Lodge Brothers
Lodge Brothers are not just funeral directors they are a team of passionate individuals who do so much for the community ensuring they embrace every occasion with enthusiasm and passion. Look at some of the Easter celebrations that have been taking place within the many Lodge Brother branches throughout the UK.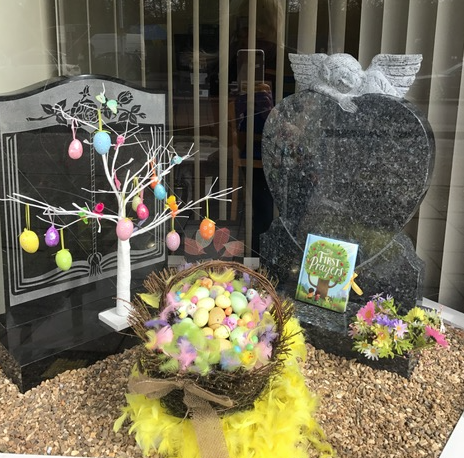 Libby Fitzgerald, our funeral arranger at Ruislip branch has bought some wonderful colours to her Easter window display to brighten up the branch!
EASTER COLOURING COMPETITION AT LODGE BROTHERS WALTON
Our Walton branch is running an Easter colouring competition for children under 5 and children under 12. The branches great location in Walton High Street and proximity to local schools should help this competition capture some children's imagination!
So please come in and collect a poster to colour from our branch arranger Ann….Easter Eggs to the Winners!!
Closing date for submissions is Wednesday 12th April.
EASTER TREATS IN ASHFORD
Quentin Edgington, District Manager Group Support and PR, was delighted to provide and help distribute Hot Cross Buns to Ashford House nursing home.  The residents and staff said, the buns were delicious and great way to start celebrating Easter.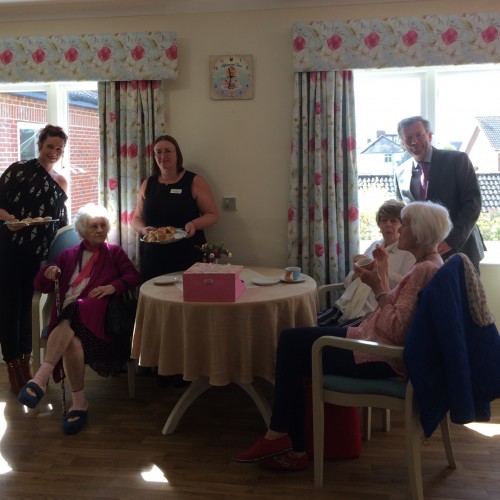 Lodge Brothers will assist with planning ahead with a Pre-Paid funeral plans Windsor will ensure your family won't face any extra cost or worries when the time comes – plus they will find comfort in the knowledge that you said goodbye in the way that you wanted.
Lodge Brothers Funeral plans Ruislip gives you:
Protection against the rising cost of funerals – secure your plan at TODAY's prices
Peace of mind for you and your loved ones
Personalise your funeral – Say "goodbye" YOUR way
Personal and Professional service from a fully trained Funeral Arranger
Guaranteed acceptance – No age or health restrictions
Monthly payment option – interest free available
All funds held in a secure TRUST FUND ready to be paid when the time comes
Click here for more information on funeral plans Woking
Posted in Funeral Services, Pre Paid Funeral Plan